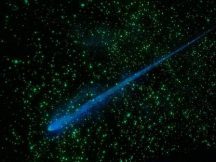 Bioluminescence is the production and emission of light by a living organism. http://wikipedia.org/Bioluminescence
Imagine swimming in the glowing waters of one of only 12 BioBays in the world! Experience the bioluminescence up close! There is no other tour like it!
Cayman Sea Elements offers BioBay boat tours aboard our custom 35 ft pontoon boat "Blue Horizons."
Just a short hop from the Seven Mile Beach Area, our dock is located in the Cayman Islands Yacht Club. From there, you will enjoy a comfortable boat ride with your family and friends across the North Sound, experiencing the sunset on our way to the Bay and the starry skies on our return journey.
Once in the BioBay, our guides will share the story of why the microscopic, bioluminescent animals congregate there, and why they make this beautiful performance that we all enjoy.
Guests are welcomed to slip into the water to view the millions of these glowing creatures, and their mesmerizing, illumination show from underwater!
This is a snorkel you will never forget!
As one of our younger guests described it.. "Mommy, it is like all the stars fell into the ocean!"
This trip is NOT conducted during the fuller moon phases, as we need a dark sky for a great tour. Please see below for a schedule.
Suitable for all ages and mobility levels.
You are welcome to bring your own drinks and snacks, "Adult" drinks are ok for the return trip.
We will supply snorkel equipment if you do not have your own. No fins please!
We have full rashguard suits available for those that would like to use one. We also have snorkel vests, "pool noodles" and plenty of other "floaty" things to make this a really relaxing and safe experience.
Don't forget your towel!
Contact us for tour dates and times. Currently tour time is 7pm to 9:30pm.
TOUR DATES
2020
January 12th, 2018 through January 29th, 2020
February 11th through February 28th
March 11th through March 28th
April 8th through April 27th
May 08th through May 26th
June 07th through June 26th
July 07th through July 25th
August 04th through August 22nd
September 03rd through September 22nd
October – 04th through 20th
November – 03rd through 19th
December – 03rd through 19th
Cost: US$65 (Adults); US$50 (Children aged 2 – 9); Free (Children under 2)
Duration: 2.5 hours
Where: Tours leave from the Cayman Islands Yacht Club/Governor's Harbour near Seven Mile Public Beach.
Complimentary pick up and transportation available in the Seven Mile Beach area and George Town.
Please contact us at, 1-345-936 8687 or caymansea@gmail.com