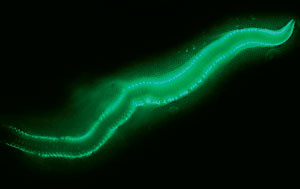 Discover Mating Glow Worms! There are many organisms in the marine world that are bioluminescent. In Cayman, like Bermuda, the polychaete annelid Odontosyllis sp. bioluminesces during mating activities that take place every month following the full moon. The females rapidly swim to the surface and emit a bright green fluorescent chemical that attracts the males who soon follow.
Join us 3 days after the full moon as we set out to witness this amazing display!
Duration: Approximately 1-1/4 hours
Cost: US$65 per adult, US$50 per child (9 and younger)
Seeing the glow worms can also be done in combination with our BioBay Boat and Swim Tour – two for one! See BioBay Boat and Swim Tour page for more details and dates.
Where: Tours leave from the Cayman Islands Yacht Club/Governor's Harbour near Seven Mile Public Beach. Complimentary pick up available in the Seven Mile Beach area and George Town.
Please contact us at 1-345-936-8687 or caymansea@gmail.com