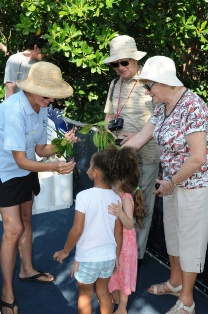 Have you ever tickled a jellyfish? Watched a feather duster wave under the sea?
Grand Cayman is not only known as one of the world's finest dive destinations, but there are local ecosystems to explore while staying dry on the boat.
Mangrove forests make up one of the most unique ecosystems on earth in that they thrive where no other trees can survive. Mangroves, in turn, provide shelter for an incredible variety of land and marine animals.
Called 'the nursery of the reef', the mangroves are the breeding grounds for all kinds of marine life – from baby barracuda and snapper to crabs climbing among its tangles roots.
Residents and visitors alike can learn about the amazing mangrove forests and its underwater ecosystem while also keeping an eye out for native and migratory birds, including the Bananaquit and pelicans.
Along the way, pet a jellyfish in the touch tank while discovering the importance of the mangrove community and why it's vital to take steps to preserve what is left. Our comfortable boat allows for an intimate experience as our trained naturalist gives an educational narrative. Please visit our Mangrove Tour Photos page.
This tour is suitable for all ages and families.
Tour times: Monday, Friday, Saturday 9am; Wednesday 2pm
Custom trips: Contact us if you have a date or time in mind!
Cost: US$40 (Adults); US$30 (Children aged 2 – 9); Free (Children under 2)
Duration: 1.5 hours
Where: Tours leave from the Cayman Islands Yacht Club/Governor's Harbour near Seven Mile Public Beach. Complimentary pick up available in the Seven Mile Beach area and George Town, including the Port!
What to Bring:
Sunglasses and a hat
Sunscreen
Camera
Towel
Questions?
Please contact us with any questions!