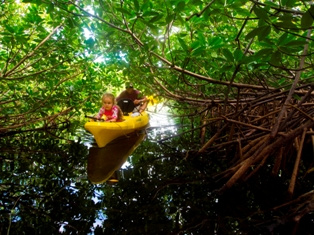 Paddling through the peaceful mangrove forest, this tour will allow you to explore this magnificent ecosystem on comfortable kayaks,while enjoying the sounds of nature. You will encounter Cayman's wildlife in their natural habitat, observing coastal birds, fish, green iguanas, orange sponges, and anemones. We will even hold a jellyfish along the way! An experienced guide is there to inform and answer any questions. Visit our Mangrove Kayak Photos page for a closer look!
Cost: US$50 (Adults); US$40 (Children aged 2 – 9); Free (Children under 2)
Duration: 1.5 to 2 hours
Where: Tours leave from the Cayman Islands Yacht Club/Governor's Harbour near Seven Mile Public Beach. Complimentary pick up available in the Seven Mile Beach area and George Town, including the Port!
Cancellation Policy: Those arriving under the influence of alcohol will not be allowed to participate in the tour.
Kayaking Tips
We use the tandem kayaks with back rests.
Activity rating: Short stretches of moderate paddling, easy guided kayak tour
Kayaking has been called a 'dry sport', but we find that you can get wet and you never know if you will get soaked! Swim shorts or suit is usually best and quick drying fabrics are the preferred choice. Cotton fabrics usually stay wet. The water temperature varies from 78 deg in winter to 86 deg in the summer.
What to Wear:
Swim shorts or suit and a t-shirt
Beach sandals or water shoes, but barefoot is preferred!
What to Bring:
Sunglasses and a hat
Sunscreen
Camera, disposable or waterproof
Do not bring anything you cannot afford to get wet!
Leave in your car (or our van):
We Supply:
Kayaks and paddles
Lifejackets and other safety equipment
Water
Guide
Questions?
Please contact us with any questions!